Five Destinations by TTC Brands That Will Redefine Wellness Travel
by Chelsea Todaro
While travelers look forward to a world re-opened to travel, many may be looking for opportunities next year to indulge in wellness, connect with loves ones and embrace the healing power of the outdoors.
Although the world continues to change, the desire to explore and connect remains the same and wellness experiences have risen to the top of travel bucket lists. Wellness travel is not only about relaxation, but also about exploring the vast outdoors and connecting with nature and culture.
Here are five destinations and experiences recommended by several of The Travel Corporation's (TTC) guided vacation companies that will help redefine wellness travel in 2021 and beyond:
Santa Cruz, Portugal
Portugal's golden west coast is all about sunshine and being one with the sea. Whether you're looking to relax on the beach or get involved with surfing, skating or yoga, this is a great destination to connect with nature. An ideal place to stay is Noah Surf House, featured on Contiki's new Portugal City & Surf trip, where the entrance is on top of the sand and the windows and balconies face the azure ocean. If you want to master the spot of surfing, take one of Noah's surfing classes by instructors with more than 15 years of experience. If want to experience the waves in a different way, try Stand Up Paddle Boarding. Yoga is also an option if you're looking for an activity that is a bit more grounded, or you can simply relax and enjoy the sound of the waves gently lapping against the shore.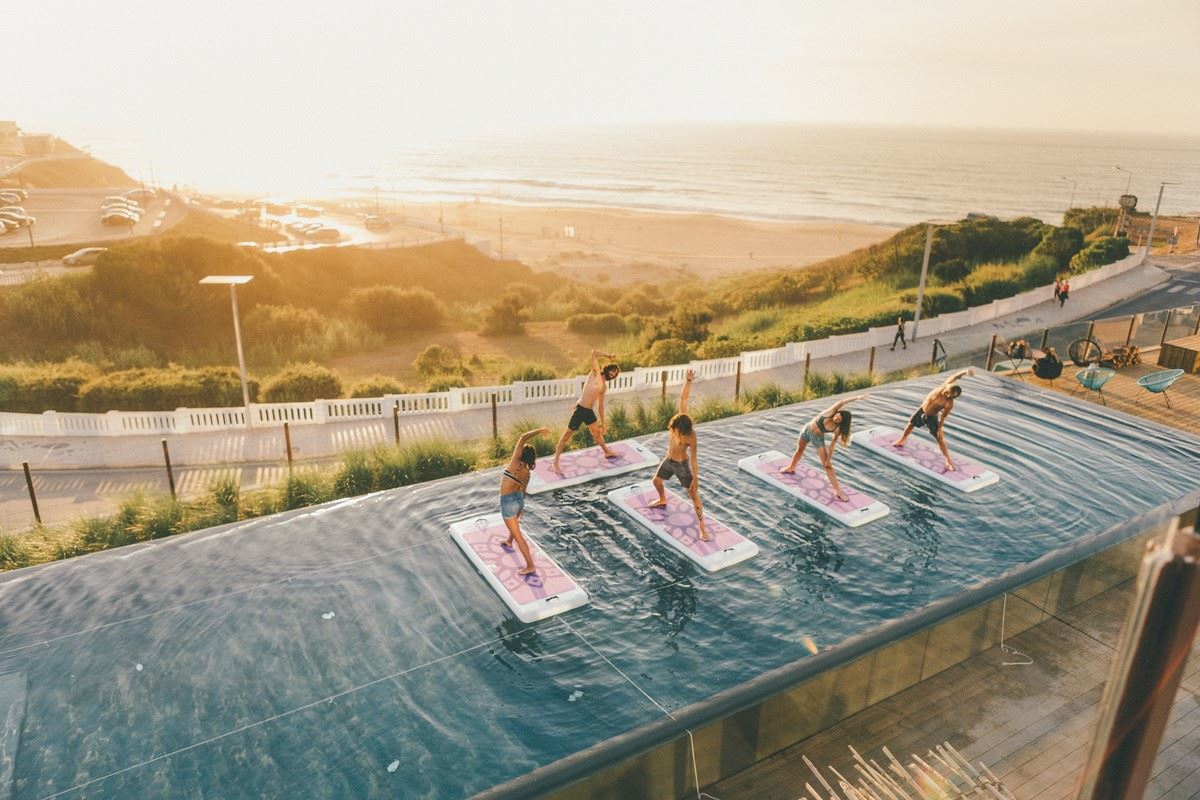 Photo credit: Noah Surf House
Oirase River Gorge, Japan
Away from the tourist laden trails, Oirase River Gorge offers travelers a retreat in the most beautiful river valley in Japan running 14 kilometers (almost nine miles) between Yakeyama at the foot of Hakkoda-san and Nenokuchi on the shore of Lake Towada. Hoshino Resorts Oirase Keiryu Hotel is full of five-star facilities and access to the natural hot springs in the neighboring forest. Travelers can indulge in slow living surrounded by mountain-stream life and take part in Japan's famed forest bathing with proven benefits for both body, mind and soul for true mindful travel. Travelers can also meet Takumi Sato, a master sake brewer, and take part in an insider tour of his brewery, as featured in Luxury Gold's Majestic Japan journey.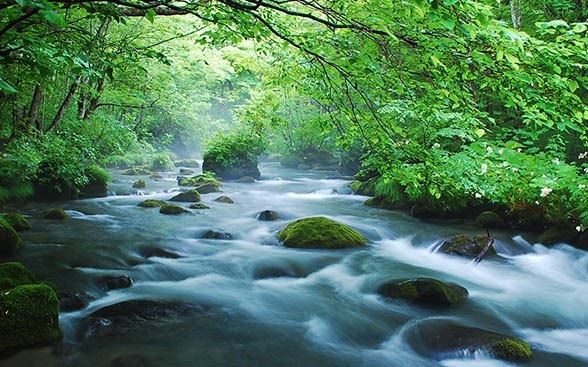 Photo credit: Hoshino Resorts Oirase Keiryu Hotel
The Alps, Switzerland
Known to be one of the splendid centers of natural beauty in Europe, Switzerland's Alps invite travelers to re-awaken their connection to the world that surrounds us and the majesty of the mountains. In the summer months, you can escape to the Alps for a taste of fresh air, more privacy and incredible wellness spas such as the family-run Steffani in St. Moritz. At the Stanserhorn Summit you'll find a spectacular journey via cable car and cogwheel railway that give expansive mountain views over Lake Lucerne, which is featured on Insight Vacation's Country Roads of Switzerland trip. For a more relaxed form of sightseeing, step aboard the Glacier Express (a regional train fully powered by hydroelectricity) to experience one of the world's great railway journeys. You'll cross the Landwasser Viaduct and head through the remote and eye-gazing high mountain pass of the Oberalp Valley.
Glacier Express
Okavango Delta, Botswana
The thriving waterways of Botswana's Okavango Delta is one of Africa's most incredible eco-system. It's also supreme for remote and luxurious lodges. At the brand-new Xigera, the lodge is aesthetically designed to be in complete synergy with its surroundings, as if time is standing still. Spacious suites look out onto lily-filled lagoons, providing a front-row seat to the theatre of the African bush. Each suite floats delicately above the water, allowing wildlife to pass uninterruptedly beneath. What makes Xigera the ultimate wellness destination is its exclusive and unrivalled flexibility. There are no set times, no itineraries, just the unique chance of exploring the bush at a personalized pace. For wellness activities, you can enjoy high tea in the bush, glide through the waterways in a glass-bottomed boat-- spotting hippos, crocodiles and a myriad of birds along the way, or stop for a 'feet-in-the-water' sundowner. African Travel, Inc.'s new safari to Botswana will take guests to this special lodge, set to open in December 2020.
Photo Credit: Xigera
Marlborough Sounds, New Zealand
To truly get away from it all, you can embrace the remote island life in New Zealand's Marlborough Sounds. A collection of ancient sunken river valleys filled with the waters of the Pacific Ocean, the Marlborough Sounds are perfect for feeling that outdoor synergy. You can hike along the scenic Queen Charlotte Track or stay along the secluded bays in waterside accommodations -- some of which are only accessible by boat or helicopter. One of these completely off-the-grid lodges, is Lochmara Lodge which is only accessible by water. Available on their new South Island Off-Grid trip, Contiki describes this lodge as a natural haven, and a unique way to experience the magic of the Sounds. There's no road access and no Television- just gorgeous views, nature walks, art and wildlife and, clear starswept skies at night. You can enjoy the free kayaks and paddleboards, hammocks, a beach, and world-famous nature trails. There's also an Underwater Observatory, where you can get a tour from a marine biologist who will tell about their work to replenish fish populations of the sounds.
Marlborough Sounds, Photo Credit: Contiki